Clarius™ iGen® C Whole-house Chlorostatic® Water Filter System
The Smart Green Solution to Remove Chloramine and Chlorine from Your Water

The Puronics® Clarius™ iGen® C whole-house Chlorostatic® water filter system combines the intelligence of the patented iGen® control valve and Green technology to efficiently provide crystal clear, great tasting water with No Salt and No Chemicals needed. The advanced ChloroShield™ Clearess® media reduces the levels of Chloramine and Chlorine typically used as disinfectants in municipal water supplies. Chloramine (a combination of chlorine and ammonia) is very corrosive to lead and copper water lines and could have potential side effects for people and fish. Your family will enjoy the benefits of consistent high quality water for years to come while reducing the impact on the environment.
Soft and silky skin and water
Food tastes better
Healthier for pets
Better tasting beverages
Green Technology
No Salt!
No Potassium!
No Chemicals!
Patented iGen® Computerized Control Valve
iGen® intelligent digital microprocessor controls system operations
Maintains 60 days of water usage history to maximize backflush/recharge efficiency
Built-in diagnostics ensure consistent superior quality water
Creates auto reserve so you never run out of quality water
Durable, corrosion resistant 1″ control valve construction guarantees years of trouble-free, efficient operations
Clarius™ iGen® CW Whole-house Chlorostatic® Water Filter System
ChloroShield™ Clearess® filter media incorporates Chlorostatic® Technology to effectively reduce chloramine and chlorine from every tap in your home.

 

ChloroShield™ Clearess® filter media has a limited lifetime warranty and eliminates the need for filter changes.
Quality you can count on
Limited Lifetime Warranty on the entire water system. Covers manufacturing defects and workmanship
 iGen® Digital Control Valve

 Stainless Steel Filter Media Tank
Food grade 316L stainless steel provides a sanitary non-permeable surface for processing your water
 Chlorostatic® Technology Filter
ChloroShield™ Clearess® media effectively reduces chloramine and chlorine from municipal water supplies
Reduces objectionable chlorine and chloramine odor and taste
Optimal efficiency reduces system operating costs
 Filter
Purifex® media uses green technology to filter water, making it smooth and gentle while leaving the healthy minerals such as Calcium and Magnesium in your water
 Sediment Filter
AltaPure® effectively removes suspended solids as small as 5 microns
 Clarifier
Silica gravel polishes water to a sparkling clarity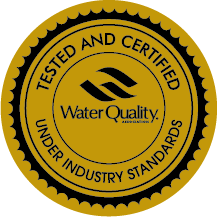 The Clarius™ iGen® C systems are Certified by WQA according to NSF/ANSI 42 for reduction of chlorine, chlorine taste, and chlorine odor and NSF/ANSI 372 for lead free compliance, as verified and substantiated by test data.
*NSF/ANSI 42 testing was performed at 2.0 ppm chlorine concentration, yielding the above extrapolated capacities for lower influent concentrations.
This system is designed for use with municipal water or private well water that has been disinfected with chlorine or chloramine. Chloroshield™ Clearess® Media will reduce chloramine/chlorine taste and odor for up to 4,000,000 gallons of municipal water at normal service flow rates.* Normal residential chlorine or chloramine level is 0.5 to 1 ppm. Higher levels of chlorine or chloramine may reduce the life of the media. Any private well application without chlorine or chloramine should use the base version of this system without Clearess®.
Clarius™ iGen® C is not a water softener and does not remove hardness from the water. Contaminants or other substances which can be removed by the Puronics® Clarius™ iGen® C system are not necessarily in your water. Operational maintenance and replacement requirements are essential for the product to perform as advertised. Actual savings achieved are dependent on your particular spending habits and usage levels.